Bristol Airport has become an official sponsor of the Great West Way – the first touring route of its kind in England which aims to boost visitors in a 125-mile corridor between London and Bristol via Wiltshire's world-famous tourist attractions.
The innovative project, which will be officially launched in November, has received £1.4m from the government's Discover England Fund and 40% match funding from a collection of tourist-related organisations acting as 'ambassadors'. VisitWiltshire, the county's destination marketing organisation, is leading the project.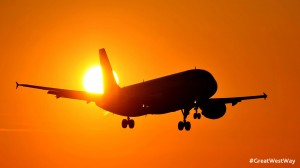 It will join up many of the South of England's iconic destinations and attractions, including Stonehenge, Avebury, Castle Combe, Swindon's STEAM railway museum, Lacock, Bath, Windsor and the Cotswolds as well as those in Bristol such as the Clifton Suspension Bridge and SS Great Britain.
It will also encourage visitors to venture off the beaten track to explore more of the region by road or by rail, by boat, by cycle or on foot away from the usual tourist honeypots.
The project is already generating strong interest from businesses along the route, including from destination management organisations and the international travel trade.
As official airline sponsor, Bristol Airport will be part of the team that launches the Great West Way at the world's biggest travel show, World Travel Market, on November 5.
Bristol Airport has been involved since the early days of the project as part of its steering group and has now been named as official airport ambassador.
The airport's business development director Nigel Scott said: "The Great West Way will bring even more overseas tourists to the South West and we want Bristol Airport to be a preferred point of entry. By providing a friendly welcome and fast and efficient service we can create positive first impressions for visitors en route to explore the region's attractions."
Great West Way director David Andrews added: "We are delighted to have Bristol Airport sign-up as our first title sponsor, joining the 100 tourism businesses and destinations and 18 official tour operators who have already joined the Great West Way ambassador network since April. I can't think of a better airport for visitors of the Great West Way to begin their journey."