Swindon firms that go the extra mile to ensure their staff are cheerful and fulfilled are being invited to enter the annual South West Happiest Workplace Competition.
The brainchild of workplace and interior design consultancy Wylde IA, the contest has successfully championed enlightened businesses since it was launched four years ago.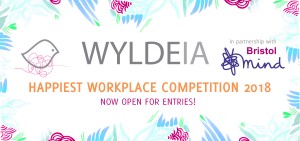 This year it has the support of mental health charity MIND and judges will be paying particular attention to businesses supporting mental health and wellness in the workplace.
Wylde IA director Maxine Bennett said: "We can't wait to see who's going to enter this year, I've got a feeling we might be in for some real surprises.
"Every year we're astounded at the creative and unusual workspaces the South West has to offer. This year we'll be paying particular attention to those who support and encourage healthy mental health, so it'll be interesting to see the initiatives businesses have adopted to encourage this."
Wylde IA has also joined forces iconic lamp manufacturer Anglepoise, furniture manufacturers The Senator Group and Allermuir – all of which are donating prizes for the winners.
Bristol MIND director Tom Hore said: "Strong and successful organisations make good mental health and wellbeing of their staff one of their key priorities. In fact, of all the improvements that can be made within organisations, improving staff mental health and wellbeing is probably the most cost effective."
Bristol-based Wylde IA is an award-winning independent interior design consultancy celebrating 22 years in the business this year.
The company specialises in creative design, working directly with clients throughout the UK and Europe in partnership with external suppliers, architects and fit-out companies to create inspiring places.
Swindon Business News and its sister titles are delighted to support the Happiest Workplace competition as media partner for the fourth year and will be carrying regular articles on its progress.
Entries for the Happiest Workplace 2018 competition are now being invited. Interested companies can find more information at www.wyldeia.co.uk
The competition can also be followed on Twitter via @Wyldelife and #wyldehappyoffice