Renewable power firm Good Energy has completed the sale of two solar farms as it continues to switch from developing production sites to new opportunities.
The Chippenham-headquartered firm, which supplies 100% renewable electricity and green gas to homes and businesses across the UK, recently made its first move into the fast-growing battery storage market through a partnership with the Eden Project in Cornwall.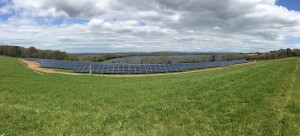 It also owns the Delabole Wind Farm in Cornwall, the UK's first commercial wind farm, and owns and operates Hampole Wind Farm, near Doncaster.
The sale of the two 5MW solar farms – Newton Downs Farm in Devon and Brynwhilach Farm, north of Swansea – reduces its portfolio to five.
Newton Downs Farm, pictured, which has capacity to power 1,400 homes, has been sold for £5.83m cash to CORE Aries in partnership with community energy company Yealm Community Energy, giving Good Energy an estimated pre-profit of around £750,000.
Brynwhilach Farm is being sold to CORE Pisces in partnership with Gower Power Co-op, a local community energy company, for £5.6m cash, also earning Good Energy a pre-tax profit of around £750,000.
This deal, which is expected to complete in the first half of this year, also includes a potential additional cash payment to Good Energy linked to the value of any development or sale of Brynwhilach Phase II, which would double its capacity to around 2,700 homes.
Good Energy said it understood that CORE Aries and Core Pisces will be working with Yealm Community Energy and Gower Power to lift lifetime community benefit payments from each of the sites to more than £1m. It has also been agreed that both sites will be transitioned into full community ownership over a period of time after completion of the sales.
Good Energy will continue to buy from the sites under a power purchase agreement.
The firm said it would use the sale proceeds for general corporate purposes, including to "fund investment initiatives supporting strategic growth, efficiency and profitability".
Good Energy CEO Juliet Davenport said: "The sale of the Newton Downs Farm and Brynwhilach Farm sites is an important milestone for Good Energy as we shift our focus away from development and towards new growth opportunities.
"In keeping with our purpose, I am delighted that we have been able to sell both sites to community organisations who will be able to leverage the opportunity of local renewable power generation. We look forward to working with CORE in the future."
Ms Davenport founded Good Energy more than 17 years ago. It now employs around 350 staff and has more than 72,250 renewable electricity customers and 43,000 carbon neutral gas customers.
Last month it appointed Moneysupermarket.com chief information officer Tim Jones – widely regarded as one of the top figures in the UK digital sector – as an independent non-executive director in a move seen as preparing the way for new business opportunities.