Wiltshire business adviser Sue Marchant is hoping to give the competition the chop when she competes in the World Tang Soo Do Association's European Championships tomorrow.
Sue, pictured, who advises firms enrolled on the Swindon and Wiltshire SME Growth Programme as director of the business growth consultancy Cool Ventures, is representing Great Britain at the martial arts contest in Rotterdam.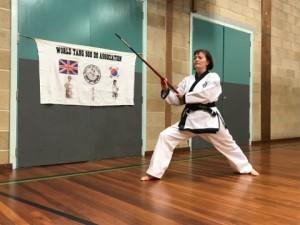 This will be Sue's third European championships, but her first competing as a black belt. A former gold medal winner, she was crowned senior belt grand champion at the 2013 championships in Munich.
Sue took up Tang Soo Do at the age of 43 after her son Nathan started the Korean martial art.
"I saw people in their 60s taking part and I thought if they can do it, so can I," said Sue, who trains with the Chipping Sodbury Tang Soo Do club.
"I didn't do any exercise back then and couldn't even do one sit-up. But learning a martial art requires physical stamina and it's done wonders for my fitness."
Sue set herself the ambitious goal of becoming a black belt in Tang Soo Do by the age of 50, something that she achieved earlier this year.
"Taking up a martial art is a bit like growing and running a business," she said. "It's all about setting yourself a goal and focussing on the essential steps necessary to achieve it.
"Being a black belt means the competition at this year's championships will be much tougher so my goal is to win at least one medal without getting my ribs broken!"
The Swindon and Wiltshire SME Growth Programme, which is delivered locally by Cool Ventures, provides free intensive one-to-one support to small and medium-sized businesses and access to workshops on business planning, finance, management and marketing.