Two senior managers in the South West office of national commercial property consultancy Lambert Smith Hampton (LSH) have been promoted to the position of director.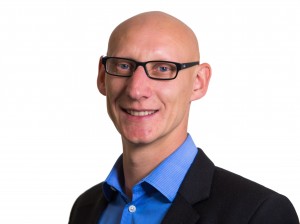 James Banks, pictured right, who leads the South West lease advisory team and has more than 10 years' experience in the property sector, joined LSH from Cushman & Wakefield (formerly DTZ) in 2015.
He has since worked with a range of clients across the South West including Urban Splash, The Crown Estate, Mayfair Capital, BNP Paribas and Boots.
Simon Redgers, pictured left, who runs the South West building consultancy division, joined LSH in 2011 from Trident Building Consultancy in London and Bristol.
A national LSH expert in dilapidations, Simon also specialises in technical due diligence acquisition surveys, with client experience including Babcock and Nationwide.
LSH head of office in Bristol, Peter Musgrove, said: "Both Simon and James have played a key role in the success of their divisions and the Bristol office as a whole. I'd like to congratulate them on their promotions, which are very well deserved."