Small business network Enterprise Nation has announced the final line-up for its major event next month aimed at helping female-founded businesses to grow.
The Festival of Female Entrepreneurs (FFE) in Bristol will hear from successful women in their field to inspire and advise those setting up on their own or wanting to take an existing business to the next level.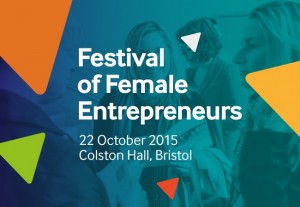 There will also be workshops on key topics such as social media, public speaking and sales, and panels covering raising finance, growing a female-founded business, and how to achieve goals.
Speakers will include Nicola Horlick – once branded as Superwoman by the media for juggling a high-powered career in finance with bringing up six children – Alex Depledge, co-founder of revolutionary online cleaner locator platform hassle.com and Julia Eliot Brown, the woman behind Upper Street, the online site that harnesses tech to allow women to design their own shoes.
The day-long event on October 22 at Colston Hall is run by Enterprise Nation and sponsored by Start Up Loans, Verisign, 123-reg and Great Western Railway. The event will also feature activity from Bristol-based networks Women Mean Biz and YENA. Swindon Business News' sister title Bristol Business News has been selected as its official media partner.
Entrepreneur Alison Edgar, Enterprise Nation's enterprise champion in the region, said: "Evidence points to the fact that women sometimes still lack the confidence to push their business to the next level – and need an extra nudge.
"We hope the festival will do just that – by offering women inspiration as well as the chance to learn how they can take on staff, increase trade, find finance, access advice and expand into new markets. And crucially it offers them the contacts and impetus they need to achieve that success."
According to the Office for National Statistics, the number of self-employed women has increased by 34% since 2009. By comparison over the past five years the number of self-employed men has risen by just 15%.
Enterprise Nation's Home Business Report 2014, found that of the 2.9m homepreneurs in the UK, 64 per cent of them were women – equating to around 1.7m women running businesses from home, contributing an estimated £180bn to the British economy alone.
In the South West, just under 10% of all businesses are run from home, according to the survey.
Top speakers also include Gold medal Olympian-turned crowdfunding entrepreneur Sarah Gosling OBE, Too Fat to Run founder Julie Crefield and Lee Dancy, founder of Barking Mad, a nationwide dog-holiday franchise.
Joni Farthing, founder of network Women Outside The Box and small business advertising site Sourceabl.com, will join Enterprise Nation founder Emma Jones MBE as one of the keynote speakers.
Enterprise Nation is a small business network and business support provider with more than 70,000 members. Its aim is to help people turn their good ideas into great businesses – through expert advice, events, acceleration, networking and inspiring books. Enterprise Nation was founded in 2005 by Emma Jones MBE also co-founder of national enterprise campaign StartUp Britain. She is author of best-selling business books including Spare Room Startup, Working 5 to 9, Go Global, Start a Business for £99 and the StartUp Kit.
For more information go to www.enterprisenation.com/festival