Bristol Airport has recorded its busiest June ever, handling more than 646,000 passengers during the month. The increase comes as a number of airlines introduce new services to meet growing demand and a new £6.5m central walkway, which opened earlier this month, paves the way for the airport to handle larger, long-haul aircraft.
The development means the airport will be able to attract twin-engine, wide-body jets such as the Boeing 787 Dreamliner and will be followed by an airbridge for passengers boarding potential long-haul flights in future.
June's passenger numbers represent a 3.34% increase over the same period last year, which was a previous record. Passenger numbers for the last 12 months reached 6.23m, passing the record total for a calendar year achieved in 2008 for the first time.
There was a particularly strong performance on Aer Lingus Regional's Dublin service, which exceeded 8,000 passengers in a calendar month for the first time. There was also strong year-on-year growth on bmi regional routes to Frankfurt and Munich as the airline's codeshare agreement with Lufthansa generated additional traffic.
Another factor, the airport said, was the introduction of a larger aircraft on KLM's four times daily service between Bristol and Amsterdam. The airline carried nearly 20,000 passengers on the route which opens up connections to hundreds of destinations worldwide via the Dutch flag carrier's Schiphol hub.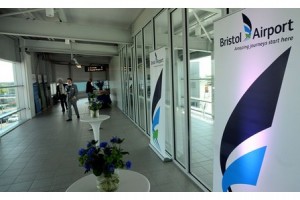 A summer service between Bristol and Stockholm also launched last month. Operated by Scandinavian Airlines (SAS), the twice-weekly flight is already proving popular with Scandinavian tourists as well as travellers from across the South West and South Wales visiting Sweden.
The new walkway includes four new pre-boarding zones serving up to six departure gates. The 3,880 sq m structure connects directly to the departure lounge and is served by an escalator and six lifts. It also has food and drink vending and toilet facilities.
Bristol Airport aviation director Shaun Browne said: "The strong performance across all airline sectors is particularly encouraging, with business, leisure and inbound traffic all contributing to June's record passenger numbers.
"New facilities are in place to ensure we maintain service levels as passenger numbers continue to grow, and we are already focusing on further improvements we can bring to the route network from Bristol."