Clive Wray, the director of public sector contracts at lobbying and advice group Business West, this week received his OBE for services to small businesses and international trade from the Queen at a ceremony at Windsor Castle.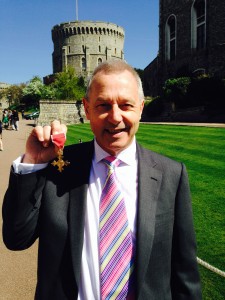 Clive, pictured, has supported small and medium-sized business development in the region for the past 20 years by helping them grow through enterprise development. He received the OBE in the New Year's Honours.
He started his career managing major engineering projects around the world but for the past two decades has worked in various senior roles at Business West, which runs the Swindon & Wiltshire Initiative.
Most recently he has focused on international trade, helping Business West develop its reputation as a provider of export advice and services. The organisation provides business support to around 6,000 businesses each year – 2,500 of them exporters.
Business West managing director Phil Smith said: "This OBE is well deserved as Clive has been instrumental in the running of the contracts for UK Trade and Investment (UKTI) and Enterprise Europe Network (EEN) – his tireless dedication making a huge impact on the export activities of local businesses.
"Clive's innovative approach has enabled Business West to double the funding available to assist exporters in the region – totaling more than £14m in the past five years."