Wincanton, the Chippenham-based logistics group, has won a contract to deliver more than a billion litres of fuel and liquid petroleum gas (LPG) a year to petrol stations and commercial premises across the Midlands and North East of England.
The contract with Phillips 66, the oil refining and energy company, will involve 100 Wincanton operational staff in Immingham, Kingsbury and Stockton. It takes the two companies' working relationship to the 15-year mark and comes off the back of an excellent safety record that includes an Energy Institute Award for Safety.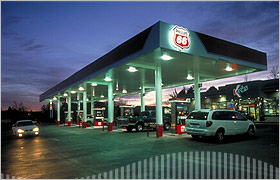 Wincanton chief executive Eric Born said: "The very nature of the industry in which Phillips 66 operates means safety has to be of paramount importance and we have worked hard at this aspect of the partnership, underlined by our Energy Institute Award for Safety.
"We are of course delighted to have been awarded this contract which will see our working relationship with Phillips 66 pass the 15-year mark – a significant achievement in any industry and one of which we are very proud."