Bristol Airport is to re-introduce direct flights to Shannon in South West Ireland – a route expected to be popular with tourists and rugby fans.
The daily Aer Lingus Regional service, which will be operated by Aer Arann, will operate alongside the airline's existing Dublin service, which links Bristol with the Irish capital up to three times a day.
Aer Lingus Regional said the decision to re-introduce the route was directly related to the Irish government's commitment to abolish its air travel tax from April next year. As a result, the Shannon service will start on April 3. The two airlines had previously operated the route on a daily basis as recently as 2010 but later scrapped the service.
Aer Arann expects to carry 25,000 passengers on the route in the first year of operation.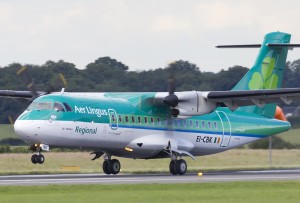 The airline's chief commercial officer Simon Fagan said: "Bristol is one of the UK's most vibrant cities, and its proximity to Bath, Cardiff, Newport and Gloucester makes it an ideal destination for travelling rugby fans."
Bristol Airport aviation director Shaun Browne said "The Bristol-Shannon route has proved popular with passengers when operated in the past.
"Now, with economic conditions improving in both countries, we are confident the demand is there for it to be a success again, making business and leisure travel between South West England and South West Ireland more convenient."
Fares will start at £29.99 each way including tax/fees/charges.
Flights will leave Bristol every day at 12.15pm, arriving in Shannon at 1.35pm. Flights from Shannon leave at 10.10am, arriving in Bristol at 11.40am. Aer Arann will operate 40 to 52-seater ATR42 aircraft on the route.
Shannon, in County Clare, is Ireland's third-busiest airport after Dublin and Cork. It mainly serves the towns of Limerick, Ennis and Galway. Once an important refuelling point for transatlantic flights, in 1947 it became the first airport in the world to sell 'duty-free' goods.
Aer Lingus Regional also flies daily to Cork and Dublin while Irish no-frills airline Ryannair also has daily flights to Dublin. Ryanair flies to Knock in the West of Ireland three times week.
The Shannon route announcement comes hot on the heels of easyJet's decision to further build its route network from Bristol with the launch of twice-weekly flights to Reykjavik and Marrakech next week.