Swindon firms considering doing business in China this year – or those already trading there – are being urged to take part in the region's largest Chinese New Year reception and banquet.
Organised by the Bristol & West of England China Bureau, the event brings together business leaders, key figures from the Chinese business community and advisors to further develop the strong links between the region and China, particularly Bristol's sister city of Guangzhou and the wider Guangdong region.
Bureau chief executive Dianne Francombe described the banquet, with its unique networking opportunities, as a 'must go' event and key date in the year for the region's ambitious businesses.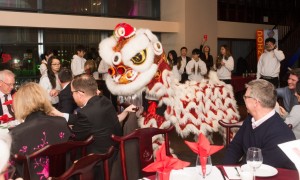 The guest list for the event in Bristol on February 22 already includes the city's Lord Mayor, Cllr Lesley Alexander, as well as civic and business leaders.
Dianne said: "This is one of the genuine high spots of the business calendar and we are anticipating enormous demand for tickets to help celebrate the Year of the Dog.
"This really is a must attend event for anyone with a China connection or wishing to develop one. This year we have a special East-meets-West theme as we continue to strengthen relations and develop more opportunities in the 'golden era' of friendship."
For the first time, guests will enjoy a special fusion menu designed by the chef at Bristol's Doubletree Hilton Hotel in conjunction with Suzanna Ho, the bureau's patron from the city's Dynasty and Zen restaurants.
Dianne added: "The Chinese New Year is the most celebrated festival in the Chinese calendar and provides a fantastic opportunity for some excellent networking and a fantastic meal."
The event will provide the perfect vehicle for businesses to enjoy some cracking Chinese entertainment – including the traditional lion dance, which is said to bring good luck and fortune.
It will help connect members of the Chinese community, West of England businesses who have already forged links with China, as well as people interested in making new contacts and enjoying Chinese culture."
The bureau was formed in 1998 as the Bristol China Partnership but has since widened its reach to provide the entire West of England with a platform for businesses and individuals to connect with like-minded organisations in China.
It collaborates with organisations in China and the UK to stage events that help inform and advise members on business opportunities in China and drive economic growth between the West of England and China. It also supports business delegations to China.
The Chinese New Year Banquet takes place from 6pm to 10.30pm on Thursday February 22 at DoubleTree by Hilton Hotel in Bristol city centre.
Individual tickets or tables can be bought through Eventbrite. There is a special £490 early bird offer for a table of 10, or £50 per individual member. After January 5 this increases to £525 for a table of 10, or £55 per individual.
Pictured: The lion dance at last year's Bristol & West of England China Bureau Chinese New Year banquet