Ambitious Swindon and Wiltshire businesses were today urged to bid for a share of a £200m investment pot – the latest phase of the Government's Regional Growth Fund (RGF).
Firms applying for round six of the RGF, launched today by Deputy Prime Minister Nick Clegg, will be following in the footsteps of businesses such Swindon-based Johnson Matthey Fuel Cells and Trowbridge-based automotive components supplier DTR VMS.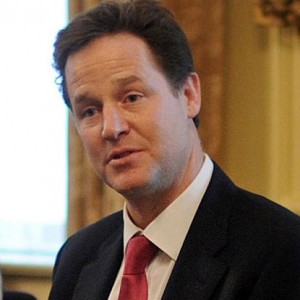 They are among the firms benefiting from the £210m invested in South West in the first five rounds of the RGF. Across the region 39 projects and programmes are being supported through the RGF, creating or safeguarding thousands of jobs and stimulating private sector investment worth £700m.
Mr Clegg, pictured, said: "The Regional Growth Fund is a helping hand from Government to create thousands of jobs that last, boost the private sector and rebalance the economy.
"I would encourage any businesses that can generate significant private sector investment and sustainable jobs to bid for a share of the £200m available from the fund."
Mr Clegg launched RGF round six at a manufacturing summit on Merseyside today which was also attended by Business Secretary Vince Cable business minister Michael Fallon.
Dr Cable said: "The Regional Growth Fund is a fundamental part of our efforts to boost manufacturing and rebalance the economy, helping to create new jobs in the South West. Round six is now open for applications and I urge businesses to see how it can help them to increase their workforce or expand to new markets."
Mr Fallon added: "Through the Regional Growth Fund, we are investing £210m in the South West, which will help growing businesses create long-term, highly-skilled jobs."
Round six will be open to private sector bidders seeking £1m or more. The Government is calling on companies to plan high-quality projects that will generate significant private sector investment and sustainable jobs. Businesses have until noon on September 30 to submit bids.
Johnson Matthey, a speciality chemicals company, was awarded £4.4m RGF funding to help develop a world-class manufacturing capability in Swindon.
The project fits with the low carbon industry sector ambitions of the Swindon & Wiltshire Local Enterprise Partnership (LEP) and economic development company Forward Swindon. The company manufactures and supplies high-performance electrode assemblies (MEAs), the multi-layer laminate device that is at the heart of a fuel cell system. Its ambition is to be the leading supplier of hi-tech catalytic components for fuel cell systems worldwide.
DTR VMS, formerly Avon Automotive VMS, makes rubber components such as hi-spec engine mounts for the global auto industry. It created 21 jobs and protected 187 through its £3.1m from the RGF, which was supported by £11m of private investment. It funded a new research and development facility to develop new products using 'noise, vibration and harshness cancellation technology' for the automotive parts sector.
Having outgrown its site in Chippenham, the firm is creating a state-of-the-art R&D, manufacturing and European logistics facility in Trowbridge.
To help round six bidders with their applications, a road show will visit the University of the West of England in Bristol on July 15.