Business in the Community (BITC), the national charity promoting corporate responsibility, has appointed Dairy Crest chief executive Mark Allen as chairman of its South West Advisory Board.
Mark, pictured, who previously chaired BITC's National Rural Leadership team, will now focus on helping South West businesses of all sizes integrate responsible practices into their operations.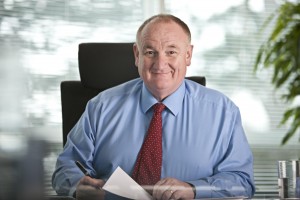 He has worked at Dairy Crest for more than 22 years, progressing from business unit managing director to the Board in 2002 and CEO in 2006. Mark is also vice-chairman of Dairy UK.
BITC, which is led by HRH The Prince of Wales, said Dairy Crest's strong footprint in the South West made Mark a natural choice for the role.
As well as buying a large proportion of its milk from farmers in the region, the company operates a number of factories.
Dairy Crest also achieved 98% and a Platinum Big Tick – the highest ranking – in the BITC's annual Corporate Responsibility Index 2013, putting Mark in a good position to advise other companies on operating responsibly.
Mark said: "I'm really looking forward to being part of a partnership that will help tackle serious social issues in the South West.
"Dairy Crest has already achieved some great results for our business and local communities by putting 'doing the right thing' at the heart of our business strategy. I want to build on this and work with other local businesses to do the same and make a real difference in the South West, a beautiful area already known for its sustainable and responsible business credentials.
"I believe we have a real opportunity to drive the responsible business agenda from the South West and ensure the region becomes one of the best places in the country to do business both now and in the future."
BITC area director Raksha Pattni added: "Mark will be a great addition to the leadership team in the region and will be able to bring a CEO's perspective to what it means to be a responsible business. Mark already knows BITC well and so will really hit the ground running in terms of activities in the South West."
To find out how to become a BITC member, network with like-minded companies and receive support from BITC experts, visit the BITC website: http://www.bitc.org.uk/membership