Inventor and entrepreneur Sir James Dyson, best known for the bagless vacuum cleaner made by his Malmesbury-based firm, is among a select group of five innovators who could be named as Britain's best modern engineer.
The contemporary achiever judged to have made the biggest mark on UK engineering will rank alongside such greats as Isambard Kingdom Brunel, George Stephenso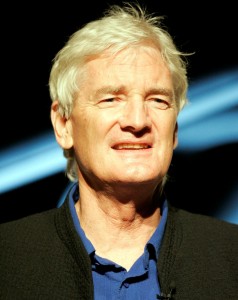 n and Barnes Wallace.
Sir James Dyson, pictured right, launched his company in Chippenham before relocating it to Malmesbury where it now employs around 500 people including scores in design, engineering and research and development. While his pioneering vacuum cleaners remain its top-selling products wand have become a global brand, the company's appliances now span hand-dryers and fans.
Sir James is up against University of Bath graduate Tim Morgan, who has invented a number of patented systems for an all-terrain wheelchair which enables wheelchair users to enjoy the countryside independently, mechanical engineer David Gow, electrical generation engineer Sam Etherington, and Jonathan Ive, Apple's senior vice president of design and the man behind the iMac and iPhone.
The Engineering Hall of Fame, launched by sector skills group Semta, is designed to ensure great British engineers of the 21st century are recognised as important and influential as their illustrious predecessors.
Ten 19th and 20th Century engineers will be invested in to the Semta Hall of Fame having been selected by a panel of engineers.
They will be joined by one of the contemporary nominees who will achieve immortality alongside them at a ceremony in London on February 12 during the inaugural Semta Skills Awards.
Semta chief operating officer Ann Watson said: "Britain's engineers are still the best in the world – and we will be putting them on the world stage to take a bow alongside their illustrious predecessors.
"We are blowing away the myth that the best days of British engineering are behind us – we say not so – ensuring that one of our five nominees achieves engineering 'immortality'.
"The Semta Skills Awards will shine the spotlight on those scaling great heights in modern Britain and those that have done so down the centuries – with the aim of inspiring the next generation of engineering talent to do so in the future."
The public can vote for the next resident of the Semta Hall of Fame online at http://www.semta.org.uk/hall-of-fame-vote