A West of England property expert is warning that Government plans to give communities a greater say over wind turbine proposals are deeply flawed and could scupper many small schemes.
James Davis, pictured, who heads the regionally-based planning team at national property consultancy Sanderson Weatherall, fears the changes will make smaller renewable energy schemes prohibitively expensive at a time when more are urgently needed to meet future energ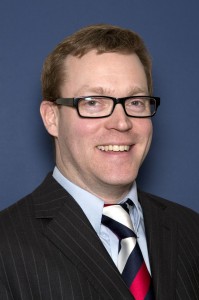 y needs.
New measures to be laid before Parliament shortly by the Government will make early consultation compulsory between local people and wind farm developers. Applicants seeking permission for more than two turbines – or any turbine higher than 15m – would need to consult the local community before submitting a formal planning application.
Ministers also plan to slash subsidises for onshore wind and solar energy from 2015 which could also affect the financial viability of smaller renewable schemes. Mr Davis, a partner at Sanderson Weatherall, which advises landowners on renewable energy schemes, says the measures will increase costs and red tape for small wind farm applicants.
"If ministers are serious about tackling climate change then this is completely the wrong way to go about it," said Mr Davis, who is based in Bristol. "Members of the public already have the right to support or object to a planning application. There is currently a consultation period for every planning application which is specifically aimed at local people who are likely to be affected.
"These proposals, which would cover the smallest wind turbines as well as the largest, are therefore totally unnecessary in our opinion. Not only will these proposals hold up the development of renewable energy schemes, they will also greatly increase costs for applicants and make smaller wind turbines prohibitively expensive.
"And the decision to chop and change pricing adds greater uncertainty, particular for struggling farmers in the region who need smaller renewable energy schemes the most.
"We believe this risks seriously damaging the market for smaller wind turbines including the potential for job losses and we urge the government to re-think its plans."