One of the UK car industry's most respected figures, former General Motors UK chairman Bill Parfitt, has joined accountants Grant Thornton's automotive advisory team as a consultant.
Mr Parfitt, pictured, is now working with team members including director and automotive manufacturing specialist Neil Barrell, who is based in the firm's regional office in Bristol.
The team advises automotive manufacturers, their supply chain and motor retailers on a range of issues such as investment and expansion.
Mr Parfitt trained as an engineer before joined tyre firm Goodyear in 1972. He moved into automotive retail, working for a number of multi-brand dealer groups before joining Vauxhall Motors, the UK division of US giant General Motors, in 1998 as fleet director.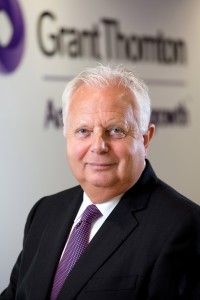 He held a number of senior management and director positions at General Motors, including sales and marketing, and was also responsible for a range of its marques including Saab, Cadillac, Chevrolet and Hummer. He was chairman and CEO of General Motors UK from 2008 to 2011, during which time he transformed the company's brand image, product line-up and performance.
He then became acting vice president of sales and marketing for Opel/Vauxhall Europe, where he helped to implement a recovery plan in the business's performance, and has also chaired the Automotive Council's supply chain group.
He was appointed CBE in the 2001 Queen's birthday honours.
He said: "Grant Thornton's automotive advisory team is unique in terms of its dedication to the sector and focus on providing bespoke solutions to what are often very complex situations.
"Anyone who knows me knows that I'm incredibly passionate about the UK motor industry and I want to see it rising to the challenges currently being presented.
"We know, for example, with the product plans which manufacturers have in place that there is an opportunity for an incremental of at least £11bn of business for UK suppliers, but the question is, are they geared up for that. This is where we can support the supplier base at all levels to seize the opportunities ahead."
Mr Parfitt's appointment comes as the UK automotive industry emerges strongly from the downturn. New car registrations in the UK in September rose by 12.1%, the best performing month since March 2008. The UK is also attracting inward investment, having attracted £6bn in investment from global vehicle manufacturers in the past two years, and UK car plant production is now back to pre-2008 levels.
Neil Barrell added: "The UK's automotive sector is in the middle of a 'perfect storm' of opportunity, presented by rising car sales, strong brands, a favourable foreign exchange position, a benign interest rate environment and strengthened government and industry support, but there are also severe challenges in terms of capacity, efficiency and competency.
"I believe we have a five-year window in which to build a robust, innovative and sustainable supply chain. If the sector doesn't respond, it will seriously undermine the UK's ability to support the next generation of platforms."
Grant Thornton South West advisory partner Nigel Morrison added: "We are thrilled to have attracted someone of Bill's track record and pedigree to our automotive advisory team. Over his career Bill has amassed a remarkable blend of experience, knowledge and innovative thinking, spanning manufacturing, supply, distribution, sales, marketing and finance, which can be drawn upon by the companies we work with."