Bristol Airport's new chief executive officer Dave Lees took up his post today with a pledge to work with businesses, politicians and local communities to build on the airport's success and oversee its next phase of growth.
Mr Lees, pictured, joins from of Southampton Airport where he was managing director. During his time at the helm the airport achieved record passenger numbers and high customer satisfaction scores.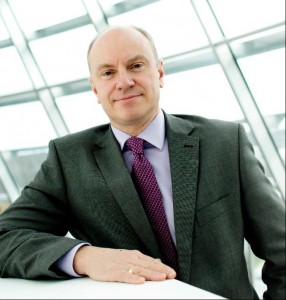 Before becoming managing director he was the airport's operations director and planning & development director. Prior to that he was head of service improvement at Heathrow Airport, where he also held roles in operations and engineering. He has a BSc in Transport Management from Loughborough University.
Mr Lees replaces former Bristol Airport chief executive officer Robert Sinclair, who left last October to take up the same role at London City Airport.
Bristol Airport chairman Janis Kong acted as interim chief executive while an extensive search and selection process took place to find Mr Sinclair's replacement.
Mr Lees arrives at the airport, the UK's ninth busiest and the fifth largest outside London, as it heads towards another record year for passenger growth. Numbers grew by more than 8% to 8.1m in 2017 and are expected to climb even further this year as additional routes have taken the number of destinations to more than 120.
Over the past 10 years passenger numbers have soared by 45%. The airport has existing expansion plans that would lift capacity to 10m.
Mr Lees will also take over work on the airport's ambitious masterplan, which will serve as a blueprint for how the airport could develop to serve around 20m passengers a year by the mid-2040s. This would include better and more integrated transport infrastructure, including the possibility of a rail link, more on-site car parking and adding a second terminal building.
He said: "I am proud, honoured and excited to be joining the Bristol Airport team. The airport has a great reputation for its route development and network, passenger growth and the vital role it plays in the region. The recent ACI Best Airport in Europe award (5m to 10 million passengers) recognises Bristol's place within the aviation industry in the UK and across Europe.
"This is an exciting opportunity and I am looking forward to working with regional stakeholders and communities to build on the airport's success and ambitions for the future."
Consultation on the masterplan and how the airport can meet future demand for air travel to and from the South West and South Wales closed last month and bosses are now taking comments on board before
The airport, which is owned by Ontario Teachers' Pension Plan, has completed a £160m development programme which has added new check-in, security, departure, arrival and retail areas.