Some of the South West's top bosses have been recognised at the 2018 Institute of Director South West Awards – the region's top scheme for showcasing boardroom excellence.
UWE Bristol pro vice-chancellor Donna Whitehead won the inaugural New Director Award at the ceremony, which took place last Thursday.
Donna, pictured receiving her award from IoD South West chair Nick Sturge, is also executive dean of the university's Faculty of Business and Law.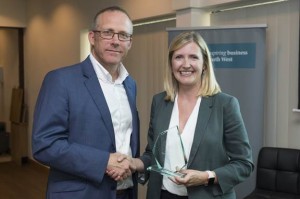 The New Director category was introduced this year for directors who have been in the role for less than two years. Donna manages a budget of £55m and leads a team of nearly 300 staff with more than 6,000 students.
She also leads the work on enterprise across the university. In winning the inaugural New Director award, she was singled out for achieving transformational change for the organisation in an impressively short period of time. The judges described her as a "passionate leader who has clearly engaged well with staff and stakeholders.
"She displays a very inclusive leadership style with strong understanding for the emotional and development needs of a team which has brought a new direction, operational focus and success."
Donna said: "I am delighted to win this award. I'm incredibly proud to lead the faculty, and enjoy and value working with all our talented staff. This award reflects their great work."
Devon businesswoman Alison Jordan won the Public/Third Sector category, beating Mark Langman, managing director of Swindon-based Network Rail's Western route, who has overseen a multi-billion pound upgrade and led the drive to increase safety and reliability of the infrastructure across the region.
Alison is CEO of Exmouth-based Pete's Dragons, a bereavement support service for anyone affected by suicide in Devon and Cornwall and founded in 2014 with her family in memory of her younger brother Pete Wicks, who took his own life in 2010 aged 24.
Alison was praised by judges for her clarity of leadership and vision and commitment to delivering a broad range of tailored bereavement support services.
Rebecca Marks scooped the Family Business award. Rebecca is co-founder and MD of global entertainment agency Scarlett Entertainment, founded nearly 10 years ago with her brother Benjamin Marks. The company, which has its HQ in Newton Abbot, now employs more than 50 entertainment specialists and represents 12,000 acts worldwide.
The judges noted her genuine passion for establishing a seriously impressive global customer base of leading brands.
Start Up Director of the Year was Oliver Bruce, founder and managing director of PinPointMedia in Cheltenham. Oliver founded the business in 2013 while still at university with a clear vision to produce the highest quality films at cost-effective prices – making film accessible to budgets of all sizes. Since then the team has created more than 4,000 films for brands all across the world. Judges said his entry showed clear analysis of the market and a strong strategy to gain and retain clients.
The Corporate Responsibility (CSR) Award went to Rob Vivian, CEO of telecoms provider Pure Comms, based in Clevedon and Cornwall. A previous finalist in another category, Rob, pictured receiving his award, was recognised for his consistent commitment to CSR from both an employee and community perspective.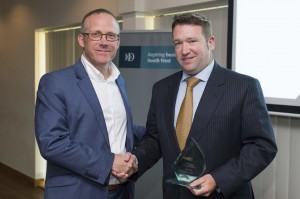 Rob is a business ambassador for North Somerset Council and also works with North Somerset Enterprise Agency to support up and coming business people. Judges said Rob's approach and leadership was evident, adding: "He has a holistic approach which employers staff to develop their own fundraising initiatives and skills, while creating an office culture of which everyone can be proud."
A total of 14 directors from across the region were shortlisted for the awards, which were sponsored by accountants Bishop Fleming, which has offices throughout the South West. Guest speaker was Roy Kinnear, chief commercial officer of Exeter-based airline Flybe.
Another new category this year was Innovation, which was won by Dr Anil Ohri, founder and chief executive of Regent's Park Healthcare.
Based in Downton, near Salisbury, the company provides managed cardiac care services across 42 NHS hospitals, employing more than 300 staff and delivering 100,000-plus cardiology procedures.
He was praised by the judges for demonstrating how disruptive innovation could successfully challenge current healthcare service operating models.
IoD South West chair Nick Sturge said: "The South West has a well-deserved reputation for creativity, leadership and entrepreneurship. The diversity of awards this year served to demonstrate just this. We had a record number of entries this year so to be even shortlisted was an achievement. I want to congratulate not just our winners but our runners up too."
All the winners will now go forward for a chance to represent the South West at the IoD National Director of the Year Awards in the autumn.
Swindon Business News and its sister titles Bath Business News and Bristol Business News were once again media partners for these coveted awards.