Swindon-headquartered regional law firm Thrings has formalised its two decade long relationship with Bristol's acclaimed International Balloon Fiesta (BIBF) by becoming its official legal partner.
The fiesta, which celebrates its 40th anniversary this year, is Europe's largest annual gathering of hot air balloons, attracting more than half a million visitors to the city over four days.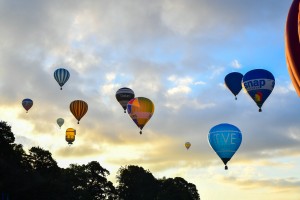 Upwards of 100 balloons as well as live entertainment, aerobatic displays, fairground rides, food, drink and children's entertainment will fill Ashton Court Estate on the edge of Bristol again between August 9 and 12.
As part of the new agreement, Thrings – which has an office in Bristol – will continue to provide strategic and legal advice to the event during the year-round planning process.
This will include assistance from the firm's specialist company and commercial, intellectual property, planning, property, environmental, licensing, litigation and employment teams.
Along with Business West – the organisation behind the Swindon & Wiltshire Initiative as well as Bristol Chamber of Commerce and the Bristol Initiative – and official fiesta partner for 2018, Bristol Energy, Thrings will host the BIBF's annual business breakfast for the fifth year running – bringing together members of the business community to discuss a hot topic affecting the city.
Chaired by TV and radio broadcaster Steve Le Fevre for a second time, this year's early risers will meet at 6am to hear local experts speak about the pros and cons of technological advances in artificial intelligence for Bristol's businesses and communities.
Thrings commercial property partner Robert Barnes, who is also a BIBF committee member, said the fiesta had become a treasured cultural experience to residents and visitors alike.
"It is a world-class event which has become synonymous with Bristol's identity and has played a huge part in putting the city on the map. It attracts 500,000 visitors and injects as much as £15m into the local economy every year.
"With Thrings lawyers closely involved for two decades, the firm has become an enthusiastic supporter of the fiesta. To put on an event of this quality and scale on a not-for-profit basis is a major endeavour and it is a privilege to continue to contribute on a pro-bono basis to help ensure the festival remains accessible to all."
Fiesta event operations director Ben Hardy added: "Thrings has been invaluable at providing legal advice and support to ensure a range of compliance and legal matters are dealt with during the planning and execution of the fiesta. The team is also actively involved on the committee, lending expertise and enthusiasm for the future of the event."
The ballooning event's connection with the business and legal world dates back to its roots, with the Bristol Junior Chamber being the first organisation to run the fiesta for a 10-year period.
Thrings also has offices in London, Bath and Hampshire.