Business West, the region's largest business body and the organisation that runs the Swindon & Wiltshire Initiative, is collaborating with two other powerful chambers to highlight the impact of uncertainty over Brexit a year before it takes effect.
The Three Chamber Alliance – which includes the London Chamber of Commerce and Industry (LCCI) and Greater Manchester Chamber of Commerce (GMCC) – was launched last week at the Houses of Parliament with a warning that many firms are deeply worried about the trade costs of Brexit.
It also fears that time is running out to make adequate preparations for its impact, with that uncertainty hitting day-to-day operations and decision-making for businesses.
To hammer this message home, the Three Chamber Alliance invited bosses of companies that are already being affected by the impact of Brexit to speak at the launch.
Bristol-based safety valve manufacturer Seetru's managing director Andrew Varga said his business supplied integrated international just-in-time supply chains operated by large multi-national businesses.
"Our customers' production processes are dependent upon very quick and on-time supply; delays cause them difficulties and stop their production lines which is completely unacceptable to them," said Mr Varga, pictured.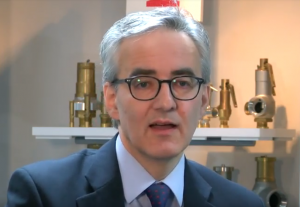 "If there are Customs formalities, we will face a next-to-impossible task in turning round the necessary export documentation within our short lead times. Furthermore, we have twice as many individual orders from the EU as from the rest of the world, so this will triple our export administration workload for no extra business.
"We have been suffering from Brexit blight in the EU market since last year in that we are unable to develop new business due to the risks around customs friction and the uncertainties. German and Italian competitors are snapping at our heels – and biting chunks out of our legs."
Export businesses representing the London and Manchester chambers painted a similar picture, highlighting the impact that Brexit uncertainty is having on three key centres of the UK economy, and underlining the need to speak as one business voice in campaigning for change.
The Three Chambers Alliance also launched a campaign platform, called chamber.online, to provide news, comment and views on Brexit as part of its first joint campaign initiative called 'Terms of trade: the reality of Brexit for Business'.
It will also campaign on what the three organisations see as other pressing issues. The chamber.online site encourages connections to amplify the impact of campaign activities and to make a difference to businesses on the ground.
Business West managing director Phil Smith said: "Trade friction will have a cost on competitiveness for many of our members which will hurt our local economy. We will be moving from frictionless trade to a system with friction, undermining many of our small exporters and largest business sectors – and forcing some to relocate production onto the European mainland. We are urging Parliamentarians to consider these real costs when debating the future Brexit deal."
South West MPs attending the Three Chambers Alliance launch included Robert Buckland (South Swindon), pictured above, Wera Hobhouse (Bath), Darren Jones (Bristol North West), Kerry McCarthy (Bristol East) and David Drew (Stroud).