Industry group Women in Property has appointed Carly Willis, a quantity surveyor with commercial interior design and fit-out company Claremont, as its new South West chairman.
Carly, pictured, has been on the Women in Property committee for more than five years, most recently as vice-chair.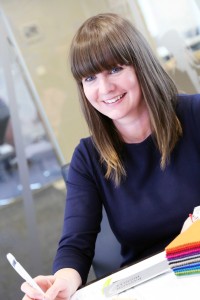 With nearly 250 members and hosting more than 100 events a year, Women in Property South West plays a very active role in the region's construction and diversity programme.
Last November the group published Building: A Better Workforce, a report on equality and flexibility in the construction industry and the wider business community. Tackling the issues that will inevitably arise as part of the gender pay gap reporting deadline in April will be key factors for Carly's chairmanship.
Carly said: "I want us to continue to make a difference within our industry, through enhancing our applauded mentoring scheme, promoting female role models and inspiring others.
"I am delighted we have just adopted our first school as part of the Constructing Excellence Adopt A School programme. We are looking forward to encouraging engagement between the next generation and the construction industry, which is important to all of us and key to bridging the skills gap.
"We are also looking forward to working more closely with our local communities, both through our schools work and through our work with the Bristol Sport Foundation, which has been very rewarding for all sides in the last year."
Claremont, which has offices in London and Manchester as well as Bristol, is one of the UK's leading commercial interior design, fit-out, furniture and technology companies, with a reputation for delivering innovative workspaces that motivate and inspire. It is engaged with projects across a breadth of industries throughout the UK.
Bristol director Simon Campion said: "We are looking forward to supporting Carly in her new role with Women in Property. Promoting diversity in our industry is something we aim to do as much as possible and we know Carly will bring an incredible energy to the role which will undoubtedly benefit everyone involved."
Before joining Claremont, Carly spent nearly six years at Bristol-based interior fit-out firm Integral Build.
Incoming Women in Property vice-chairman Ros Trotman, a planning associate solicitor at law firm Thrings' Bristol office, said: "I have seen the Women in Property South West go from strength to strength since I joined in 2014.
"The organisation remains as committed as ever in its efforts to bring gender equality, merit-based success and fairness to the property and construction sector. I am therefore delighted to be stepping up from the position of joint events coordinator to support Carly in continuing the branch's excellent work over the next year."
Women in Property is hosting an event with Bristol Women's Voice at Pata Negra in Corn Street, Bristol, to mark international Women's Day next Thursday.
For further information go to www.womeninproperty.org.uk