Airline easyJet has signalled a quiet revolution in its operations in the West of England by showcasing one of its new-generation Airbus aircraft at Bristol Airport.
The airline, the airport's largest operator, has taken delivery of the first batch of its A320neo (new engine option) planes from Airbus.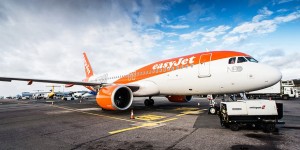 While the aircrafts' new energy-efficient engines and innovative wingtips – designed by engineers at Airbus's Bristol plant – cut fuel use by 15%, they also reduce noise and take-off and landing by around 50%.
The 186-seat A320neo, pictured, landed at Bristol Airport yesterday as part of a tour of UK airports served by the low-cost airline.
The first A320neo to be permanently based at Bristol will arrive later this year as part of easyJet's fleet upgrade and expansion.
The airline will have 15 aircraft based at the airport from this summer as it continues to add new routes – it now flies to 66 destinations from Bristol, which is its biggest base outside of London, and is increasing frequency on others, such as flights to European capital cities popular with leisure and business travellers.
EasyJet has started to operate the first of the 100 new-generation Airbus A320neo aircraft it has on order from other airports.
All 100 – equipped with CFM LEAP-1A engines and with 'sharklets' wingtips – will be in its fleet by the end of 2022, replacing on the most part smaller A319 aircraft.
From this summer easyJet will also start to receive 30 larger A321neo aircraft, which will have 235 seats. These will also contribute to easyJet's carbon reduction target by reducing the amount of fuel used to carry each passenger.
EasyJet UK country manager Ali Gayward said the noise reduction would be a major factor in Bristol, where the airline wanted to be a responsible partner and work with people living nearby as the airport continues to grow rapidly.
Bristol Airport planning and sustainability director Simon Earles said: "It is exciting to see the introduction of the A320neo at Bristol Airport. This marks a major milestone in the latest aircraft technology being used by our largest airline partner, easyJet.
"The aircraft not only delivers improvements in fuel consumption and emissions, it also reduces the noise impact to our local communities during take-off and landing phases. As the city of Bristol is the home of Airbus it is particularly apt to see this aircraft now operating in and out of Bristol Airport."
The single-aisle A320neo is a re-engineering of Airbus's existing A320 short-haul family of aircraft.
The pioneering sharklets were designed at Airbus's Filton plant – where the European group employs around 4,000 engineers – to reduce fuel usage by between 15% and 20% on an average flight – a huge cost saving for airlines which also brings massive environmental benefits.
The A320neo family of aircraft has secured more than 5,200 orders from 95 customers since its launch in 2010, giving it nearly 60% market share.