One of the West of England's greenest office buildings has been put up for sale following the decision by iconic office furniture maker Herman Miller to centralise its UK operations.
The showpiece 20,000 sq ft building in Chippenham, pictured, known as VillageGreen, was designed as the European headquarters of the US-owned firm by renowned Californian architects Gensler to reflect its environmental ethos.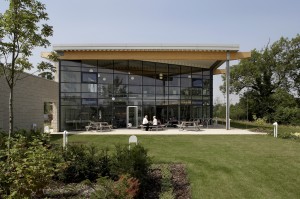 It key features include a natural ventilation system – which keeps energy costs to a minimum and reducing emissions – insulation over and above statutory legislation, meters to monitor water flow and detect leaks, and rainwater harvesting.
Its sustainability credentials include an 'excellent' rating under BREEAM environmental accreditation scheme – one of only a handful of buildings in the South West to have this – and a gold LEED rating. All materials used in its construction were sourced within 30 miles.
When VillageGreen opened 10 years ago, Herman Miller said it wanted it to be "a benchmark for sustainable facilities".
Gensler said its innovative design "not only reduces maintenance costs, it echoes the rural character of the site, incorporating local materials, passive drainage techniques, and protection, wherever possible, of existing trees and vegetation".
But now the firm – best known for its instantly recognisable Aeron chair, used in TV shows and films ranging from Question Time to Casino Royale – has put the building on the market as it relocates the 100 staff based there to its new state-of-the-art building in Melksham.
It has also recently opened a manufacturing and logistics hub in Bath.
Steve Lane, associate director at property consultancy JLL, which is marketing the building, said: "There are very few freehold office buildings of this quality in the area and we are seeing more and more businesses seeking to become owner-occupiers, so we expect to see plenty of interest in this striking, eco-friendly building.
"This is a property that has stood the test of time and has a real 'wow factor' about it, as well as benefiting from excellent transport connections."
Herman Miller has a long history in the Bath area, having arrived in the city in the 1960s. The WoodMill factory in Bath, and its previous manufacturing and logistics building in Chippenham, were both designed by leading contemporary architect Sir Nicholas Grimshaw, who also designed the Portal Mill building in Melksham, which opened in 2015.
Its office chairs and furniture are manufactured and assembled there before being exported across Europe, the Middle East, and Africa.
The 170,000 sq ft Portal Mill building has brought together the company's regional research and development, manufacturing and logistics operations into one building, which also showcases the company's unique approach to designing office work spaces.