Good Energy, the Chippenham-based renewable energy firm, has made its first move into the fast-growing battery storage market through a partnership with the Eden Project.
The firm said the move, which will bring environmental and financial benefits to the 'green' Cornish tourist attraction, will take it one step closer to its purpose of "powering a cleaner, greener future".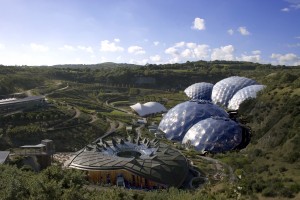 The battery, due to be installed next summer, will be a combination of five x 50kW 'fridge-sized' battery units and a control centre.
The Eden Project plans to create a new exhibit to show visitors how the battery works and the environmental and economic benefits it will provide.
The Eden Project, which attracts more than 1m visitors a year, is already powered by local renewable energy via the Selectricity scheme, in which Good Energy is a partner. Selectricity enables businesses to choose the renewable generators who provide their energy.
Battery storage is viewed as the next disruptive technology in the energy sector and is expected to grow exponentially over the next few years.
Energy firms as well as major landowners and developers are investing heavily in the sector. Good Energy, founded more than 17 years ago and now one of the UK's leading 100% renewable energy providers, has more than 72,250 renewable electricity customers and 43,000 carbon neutral gas customers.
It owns the Delabole Wind Farm in Cornwall, the UK's first commercial wind farm, and also owns and operates Hampole Wind Farm, near Doncaster, along with seven solar farms.
Director of business services Dr Randall Bowen said: "We're delighted to partner with our friends at the Eden Project to help them become the first commercial site of its kind, to harness renewables through battery storage.
"Our unique proposition makes battery storage commercially viable for the first time at this scale, and is a major breakthrough in reducing reliance on the National Grid and reaching our shared goal of a 100% renewable UK."
Eden Project finance director Peter Wroe added: "Eden and Good Energy have developed a strong and mutually beneficial partnership and we're proud of the work we have done together.
"Eden is an educational charity, so we are pleased to be showcasing this battery storage technology, building on our work with Good Energy on the groundbreaking Selectricity project. This is part of Eden's ongoing efforts to demonstrate innovative and sustainable solutions to energy issues."
Eden photo by Tamsyn Williams