Swindon's ethical organisations – large and small – are being invited to enter the annual South West Fairtrade Business Awards.
Now in their sixth year, the awards recognise the contribution that businesses, organisations and institutes in the region make in support of Fairtrade by buying certified Fairtrade products for the workplace and raising awareness of ethical trade issues amongst their staff, customers and peers.
The awards are free to enter and will culminate in a high-profile ceremony in March next year.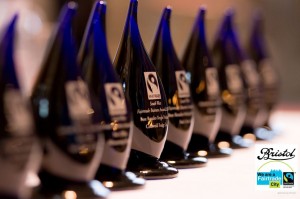 Organisations flexing their ethical muscles to meet the award criteria will be rewarded with bronze, silver or gold certificates, e-logos, a year-long online listing and a free ticket to the ceremony.
Winners of each category will receive their own Bristol Blue Glass trophy to take away with them.
Lucy Gatward, marketing manager at Bristol-based ethical food retailer Better Food – which has held a South West Fairtrade Business Award for several consecutive years – said: "Winning a South West Fairtrade Business Award has been a brilliant way of getting the word out about our commitment to ethical retail.
"We know our customers choose to shop with us because of our values, and the Award is a clear demonstration of what Better Food stands for."
A new category of Best South West Fairtrade Product has been added. The category is open to any company in the South West making a Fairtrade-certified product and will be awarded to the applicant that the judges feel makes best use of Fairtrade ingredients and marketing to create a special or innovative ethical product.
This brings the total number of categories to eight, including existing awards for Best Office, Single and Multiple Retailer, Accommodation, University, Eatery and Advocate. Best South West Fairtrade Business 2018 will be selected from these categories.
Organisations wanting to find out more about the awards can attend a free workshop in Bristol on the morning of November 23.
Attendees will learn more about Fairtrade and discover ways to use and promote Fairtrade in the workplace, as well as having the opportunity to sample locally made Fairtrade products.
Danni Rochman, coordinator of Bristol Fairtrade Network, which administrates the awards, said: "This is a really exciting time for Fairtrade in the South West – the region is a hotbed for organisations going that extra mile to put ethical trade at the heart of their business. The workshop will bring together like-minded businesses to share ideas about how to get the most of supporting Fairtrade in the workplace, and connect with local companies making and supplying Fairtrade products."
Swindon Business News sister title Bristol Business News is media partner of these prestigious awards for the fifth year running.
To find out more about the Awards and how to enter, visit: https://www.bristolfairtrade.org.uk/fairtrade-business
To register for the free Fairtrade for Business Workshop, visit: https://ftba23nov17.eventbrite.com
For more information, email: awards@bristolfairtrade.org.uk