Challenges linked to infrastructure, apprenticeships and Brexit were among the topics discussed by businesses when they met Chippenham MP Michelle Donelan at a roundtable staged by business services organisation Business West.
With uncertainty still hanging over the government's Brexit negotiations, businesses at the event emphasised the importance of agreeing a meaningful transitional deal with the EU to avoid a 'cliff-edge' Brexit and a return to trading under World Trade Organisation (WTO) rules.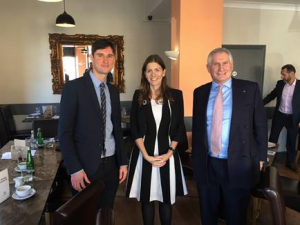 The increased costs of imports and exports due to friction at the UK-EU border was also raised, with Ms Donelan attempting to allay fears of more paperwork and border delays.
Pictured: Chippenham MP Michelle Donelan flanked by Rupert Callingham and Ian Larrard of Business West
Other questions were on the long-term prospects of a deal, with businesses highlighting how high levels of uncertainty were having an impact on investment decisions, particularly in the case of two firms represented at the roundtable – Knorr-Bremse and Huber Technology, both German-owned engineering businesses with UK-based subsidiaries.
Railway systems manufacturer Knorr-Bremse and wastewater treatment specialists Huber were joined by Melksham cheese exporter Coombe Castle International and SMARTech, an energy management firm based in Corsham.
On the topic of engineering, discussion turned to skills and the importance of retaining access to high-skilled workers from the EU.
Ms Donelan, whose constituency includes Bradford on Avon, Corsham and Melksham as well as Chippenham itself, suggested that post-Brexit immigration arrangements would facilitate continued access to these skills – but emphasised the importance of improving the skills base of the UK workforce.
A member of the Parliamentary education select committee, she spoke passionately about how the government is helping to tackle skills gaps in the region.
Ms Donelan, who voted against Brexit, also discussed the prospect of future post-Brexit trade deals with countries around the world, saying that she was optimistic that a good deal with the US in particular would be forthcoming.
She listened carefully to the businesses' concerns over Brexit and said she was confident that a deal would be agreed, along with the future trading relationship, by March 2019 – saying it was in the interest of both parties to agree to these arrangements.
Local issues were also discussed, including infrastructure and improvements to the A350.
The roundtable closed with Ms Donelan giving an update on the redevelopment of Chippenham town centre and the Chippenham 2020 masterplan.
Ian Larrard, director of Swindon & Wiltshire Initiative – which is part of Business West – said: "It was great to be able to sit down with Michelle and local businesses to highlight the challenges posed by Brexit in Chippenham and the surrounding areas.
"It is imperative that our MPs are as informed as possible about the business impact of Brexit. However, a number of MPs have told us that businesses are simply not getting in touch to raise their concerns.
"This is where Business West excels – standing in the space between government and the business world providing the unique voice that enterprise needs, while enabling government to truly understand the needs of business and facilitate economic success."
Business West is holding further roundtables with MPs across the West of England.