Unemployed and disadvantaged young people from across the West of England are to benefit from £160,000 raised by business leaders at a dinner for The Prince's Trust.
More than 460 business people and other high-profile guests from across the region attended the annual Red Dinner at Ashton Gate in Bristol – one of the charity's biggest regional fundraising events.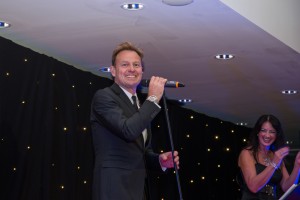 The event, which was sponsored by Superdry and wealth management firm LGT Vestra, was headlined by singer Jason Donovan, with comedian and impersonator Jon Culshaw hosting.
All the money raised will go directly towards supporting Prince's Trust projects across the South West that help to get young people into work, training or education.
Highlights on the night included a performance from acapella group Bristol Suspensions, a silent auction and prize draws, as well as donations and pledges.
The work of the Prince's Trust was brought into focus by Simon Hyett, 28, from Portsmouth, who spoke movingly about his challenging upbringing, family problems and battle with drugs.
He said: "I had a difficult childhood, was repeatedly abused and as a consequence struggled with self-harm and drug addiction. Taking part in The Prince's Trust Enterprise Programme really was a turning point for me.
"I took part in the programme to explore starting my own business around my passion – snakes. The Prince's Trust gave me the skills and information required to start a business, and more importantly showed me that my life is worth more than I believed. This was the light at the end of the tunnel.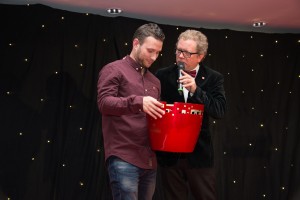 "Today I am free of addiction, my business is growing and I am volunteering as a Prince's Trust Young Ambassador, to help support more young people the way I have been."
The Prince's Trust senior head of programmes Dougie Brown said: "Last year was our 40th anniversary, when the Red Dinner was three times bigger than any other previous event, so we are particularly delighted to see the momentum carry on with this incredible attendance and fundraising effort.
"While there are no words that can adequately say thank you for the support of local businesses, they can rest assured it will help more young people make positive changes to overcome the challenges they face and transform their lives."
Including this year's total, the Red Dinner has raised more than £580,000 since it started, which has been used by The Prince's Trust to support young people in the South West.
Superdry chief executive Euan Sutherland said: "A particular highlight of the evening for all of us at Superdry was hearing from the people the charity has helped. It's only when you hear the stories of their lives and what they have had to endure that you realise the impact The Prince's Trust has at a grass roots level.
"Well done to everyone for putting on another wonderful event and we look forward to hearing more success stories as a direct result in the year ahead."
Andrew Davies, head of LGT Vestra's Bristol office, added: "We understand well the power of investment and there is none so powerful as when it is placed in people – particularly young people who have not had the best start to their lives.
"The support raised from events like The Red Dinner comes full circle as the Prince's Trust directly works with the incredible individuals to build their own futures and businesses, which then goes on to benefit society as a whole."
Pictured, top: Jason Donovan performing at the Red Dinner. Bottom, Simon Hyett with Jon Culshaw. Photos by Jess Greenwood