Iconic British sports car maker TVR is today unveiling its first new model for more than a decade – with Melksham-based specialist tyre manufacturer Avon playing a crucial supporting role.
The £90,000 car, which can reach speeds of up to 200mph and 0-60mph in less than four seconds, is being launched to much fanfare at the Goodwood Revival today.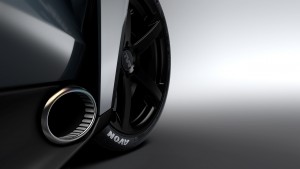 TVR commissioned Avon to produce a bespoke tyre for the much-anticipated high-performance car, which is powered by a 400bhp per tonne, five-litre, Cosworth-developed V8 engine.
Avon's British and racing heritage, along with its expertise in producing high-performance rubber, made it the obvious choice for TVR.
The firm further developed its ultra-high performance ZZ5 tyre, which exists in its current range, to feature a unique performance compound and new sidewall graphics for exclusive fitment.
The new as-yet-unnamed TVR has been created in conjunction with Gordon Murray Design, and is being made in a limited 'launch edition' of just 500.
It will the first car reveal at the world-renowned Goodwood Revival in Sussex in its 19-year history. The launch firms part of the celebrations of TVR's 70th anniversary.
Avon has a long association with the marque, having supplied tyres for models produced between the late 1950s and 2004.
Avon Tyres marketing director Michiel Kramer said: "Avon is delighted to have been chosen as the original equipment tyre for the new TVR. Sharing similar brand values, both Avon Tyres and TVR are high-performance British brands and proud to manufacture here in the UK.
"Developing a bespoke tyre for TVR is an incredibly exciting project which demonstrates Avon's advanced technology and experience in ultra-high performance tyre design."
Avon employs around 650 people at its Melksham plant, where it produces high-performance car, SUV, 4×4 and motorcycle tyres under the Avon and Cooper brands. Last year it opened a 211,000 sq ft warehouse in the rear of Swindon's iconic Spectrum building, originally used by Renault as its UK parts distribution centre.
Avon Tyres has been making high performance tyres for over 100 years. It was part of Melksham-based manufacturing group Avon Rubber until 1997.