Low-cost airline easyJet today said it would continue to develop its services from Bristol Airport – where it is the largest operator – despite posting a record half-year loss of £212m.
New routes could include the emerging holiday destinations of Montenegro and Bulgaria – which have been introduced from its London airports – while frequencies on same city routes may also increase to meet demand.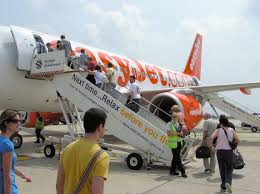 The airline is introducing a 14th aircraft at Bristol Airport this summer and has already added new routes over the winter and this year – taking its total destinations to 62.
The loss for the six months to March 31 – which was against a £21m loss in the first half of last year – was partly down to the timing of Easter and currency movements caused predominantly by the weak pound following the Brexit referendum.
However, total passenger numbers grew by 9% to 33.8m while revenue was up by 3.2% to £1.8bn.
EasyJet UK country director Sophie Dekkers said year-on-year passenger growth at Bristol had also grown by 9% as it handled a record 1.4m passengers at the airport in the six-month period.
Growth was split evenly across business and leisure sectors as the airline continued to increase frequency on some routes that are popular with business travellers and introduced new leisure destinations.
These have included Kefalonia in Greece and the Croatian resort of Pula. Early sales on these have exceeded the airline's expectations, said Ms Dekkers.
This reflected an increasing shift to new European destinations away from the traditional holiday hotspots, she said.
Lower fuel costs had enabled airlines to keep fares low – in easyJet's case they have decreased by 5% year on year, have fallen for three consecutive years and in the case of flights to Spain are down by 30%. However, hotel costs in traditional resorts were rising sharply this year.
"This year there are more seats on aircraft flying into Palma, Majorca, than there are hotel rooms available on the island," said Ms Dekkers.
Bristol passengers could also benefit in the future from easyJet's decision to operate larger aircraft to some popular destinations as it looks to maximise income per route.
The airline is buying new 235-seater Airbus A321 aircraft. At present it flies 156-seat A319s and the larger 180-seat A320 from Bristol.
Ms Dekkers said easyJet continued to work closely with Bristol Airport bosses to identify new destinations and increase frequency on existing routes. It growth was now targeted at 80% increase frequencies and 20% new routes.
"Our focus remains on Bristol as our biggest UK base outside London and our 14th aircraft here further reinforces our commitment to the region.
"Forward bookings are ahead of last year with already over 1m additional passengers booked to travel from the UK this summer.
"Our bookings for the summer are ahead of last year showing that demand to fly remains strong. We offer more flights to the popular destinations of Spain and Portugal than any other airline operating from the South West."
Laith Khalaf, senior analyst at Bristol brokers Hargreaves Lansdown, said: "While [easyJet] is flying more passengers, it's making less money from each seat on its aircraft.
"The good news is UK holiday makers don't seem to have been put off travelling to Europe by the weaker pound, though they are currently enjoying a boon from lower fuel prices and a highly competitive short-haul airline market.
"EasyJet is taking no chances with Brexit, and is in the process of securing an Air Operator Certificate in another EU member state, which will enable it to continue flying passengers on its non-UK routes, though at a cost of £10m."
The airline's share price has fallen about 20% since the result of the EU referendum as the associated fall in sterling hit home.
"EasyJet clearly thinks bigger is more beautiful, as it seeks to further increase capacity in an already crowded marketplace," added Mr Khalaf.
"The strategy is to bolster its position on key routes, allowing it to drive better deals with airports and suppliers. Indeed, the airline has upgraded an order with Airbus to provide even bigger planes, which will allow easyJet to fly more people into airports with limited landing slots.
"EasyJet is doing what it can to strengthen its position in tough times, in the hope than when the clouds part, it will be flying higher than its rivals."