Annual profits at Swindon-based regional construction group Beard leapt by 41% last year as it continued to win major, high-profile projects.
Pre-tax profits reached £4m during the year to December 31 for the first time on turnover up 23% at £136m. The family-owned firm, which celebrates its 125th business anniversary this year, has a current order book of just over £112m.
The firm, which specialises in projects in the education, healthcare, sports and leisure and commercial sectors up to £16m, opened an office in Bristol last year two years ago to broaden its reach further into the West. It also has bases in Oxford and Guildford.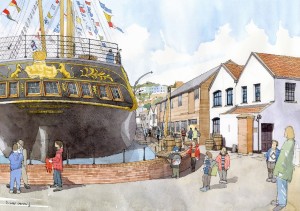 Beard is on 14 multi-million pound construction frameworks and last year secured a number of top projects including the £7.2m scheme for the ss Great Britain Trust to build the new national Being Brunel museum, pictured, alongside Bristol's Floating Harbour; an £11m science building refurbishment at Eton College, and a major sports hall development which is part of a £60m world-class sports complex in Oxford for the University of Oxford.
Chairman Mark Beard, pictured below, said: "Beard's strong construction performance in 2016 reflects our continued strategic focus on prompt and faultless delivery, being selective about our projects and work-winning environments which bring out the best in our teams.
"Our high-quality construction capability and profitable long-term relationships with our clients and suppliers, have also helped generate high levels of repeat business which we have been able to secure on better terms than lowest cost competitive tendering."
The firm has achieved strong year-on-year growth under Mark, who became company chairman last year following the appointment of David Sershall as managing director.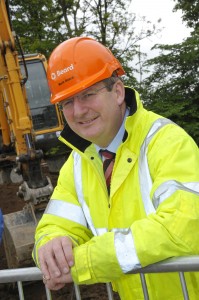 Over the past 18 years, Mark has transformed the business from a small local builder to a modern, professionally-managed regional construction company. During this time, turnover has soared from £18m in 1999 to £136m and profits from £250,000 to £4m.
Last year Beard also launched The Beard Charitable Foundation with a £250,000 donation from the Beard family to support staff community initiatives and construction education projects in the South of England. Held and managed by Oxfordshire Community Foundation, a charitable organisation that connects donors with local causes, The Beard Foundation Board hopes to award £20,000 in grants annually.
"Our new Foundation supports charity and community work by our staff, wherever possible matching the funds raised by individuals or teams, up to a maximum of £5,000," added Mark. "It will also be making occasional larger strategic donations to charities across the South involved in construction industry education and tackling skills shortages."
Looking ahead, Beard expects to see further growth this year. "Given the agility of the business, the strength of our order book, framework contracts and pipeline of contract opportunities, we're well positioned to build on our success in 2017," said Mark.
"Along with a strong management team under David Sershall, we continue to invest heavily in training and developing our own skilled workforce in preparation for new construction opportunities in the new post-Brexit market and a continuous drive to be better tomorrow than we are today."