Swindon web marketing company All Things Web has appointed Ammon Johns to further develop its digital agency and grow its footprint across the UK.
Ammon, pictured, is widely acclaimed as one of the pioneers of Search Engine Optimisation (SEO) and recognised as one of the leading voices on organic search by his peers around the globe.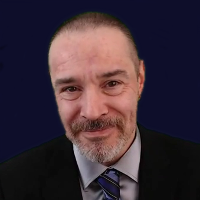 He brings more than 20 years' industry experience to his new role as web marketing director at the firm, which also has an office in Bristol.
It employs a team of experienced digital marketers working with clients across multiple sectors and industries, each with different online ambitions and budgets.
Ammon is often called a 'legend' in the search marketing industry by people who are themselves leading voices in the field.
His innovations, processes and approaches became many of the standard practices of search marketing today for agencies and in-house teams across the world.
He is particularly known for his sheer breadth and depth of expertise and is considered a thought leader in Internet Marketing, SEO, SEM (Search Engine Marketing), Viral Marketing, Holistic Marketing, Web Analytics, Conversion Performance Analysis, Online Community Management and Innovation.
At All Things Web, which has its Bristol office near Parkway railway station, he will lead the business proposition on website strategies, search marketing and SEO, social media strategies and conversion optimisation.
He also brings extensive experience in better integrating all the digital marketing systems and programmes to the ever-widening mix that today's marketing directors must grapple with and master.
All Things Web founder and technical director Darren Moloney said: "Ammon and I have known each other in the industry for many years and I have always admired his digital experience and knowledge.
"We have talked about collaboration and this appointment means we can do just that. His technical expertise in web optimisation and ability to develop strategies to enhance revenue streams are widely recognised and will create additional value for our clients.
"Having Ammon join us at All Things Web marks a strategic opportunity for us as a business as we now are well positioned to grow our business and develop a nationwide footprint. We are thrilled to welcome him to our business."
Ammon added: "Joining All Things Web offered me the opportunity to bring genuine, lasting value to a whole new generation of clients as part of a vibrant and growing digital agency.
"The challenge for so many clients, and indeed agencies, today is how so many different activities in the marketing mix get separated and segregated, losing the holistic benefit.
"All Things Web have a holistic vision that matches my own, and together we are creating a more integrated approach for our clients, throughout the UK and beyond."
Ammon's visionary yet deeply practical approach to client projects has delivered outstanding online campaigns for recognised brand names including Royal Bank of Scotland, CNN Europe, Dialaphone, uSwitch, Norwich Union, Legal & General and Visit Wales.