Sales coach and 'entrepreneur's godmother' Alison Edgar has been named among the UK's 100 unsung heroes who play an active role in supporting the country's entrepreneurial community.
Alison, pictured right, appears in the latest Power 100 compiled by accountancy and business advice group Smith & Williamson, which champions those whose help shape, support and promote entrepreneurs and entrepreneurship.
Alison founded her Chippenham-based business Sales Coaching Solutions in 2011 to provide blue-chip level sales coaching and training to sales and customer service teams in small businesses, helping them grow and become a success.
Last year she launched a new brand, The Entrepreneur's Godmother, to help budding Richard Bransons.
Alison said she was inspired to start Sales Coaching Solutions after reading that 90% of start-ups fail within the first year. She developed her Easy Peasy Sales workshop and online sales course to enable start-ups, micros and owner-managed businesses access to specialist sales training and advice.
She has now helped nearly 200 start-ups and micros to become part of the 10% that survive.
Among them is Trowbridge-born Jordan Daykin, the youngest person to secure investment on Dragons' Den, who also appears in the Power 100.
Jordan, pictured below, is now one of the UK's most recognised young entrepreneurs following his appearance of Dragons' Den, when he secured an £80,000 investment for a 25% stake in his Westbury-based specialist fixings GripIt from Deborah Meaden.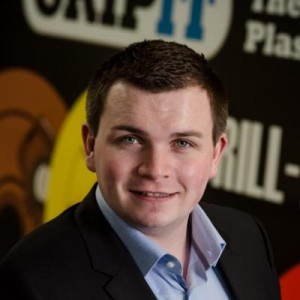 As well as helping entrepreneurs, Alison has proactively promoted and supported entrepreneurism through her work with Enterprise Nation, Entrepreneurial Spark, StartUp Britain and Small Business Saturday.
Enterprise Nation founder Emma jones said: "Alison Edgar is one of the most entrepreneurial people that we have ever come across at Enterprise Nation.
"She inspires people to start a business and then applies her skills to help them grow. The entrepreneurial landscape in Britain is a better place with her in it."
Alison has recently developed a new online course called The Guide to Starting a Business to help entrepreneurs and start-ups worldwide access business support and advice.
She said she was over the moon to have been named in the Smith & Williamson Power 100. "It just goes to shows that an effective sales strategy really pays off," she said.
"What makes the whole experience even more amazing is getting to share the list with some of my wonderful clients and friends."