The Festival of Female Entrepreneurs (FFE) is on the look-out for up-and-coming female business talent to enter its annual awards as it prepares to return to the West of England for a fifth year.
The FFE, organised by small business support group Enterprise Nation, stages its high-profile annual event at At-Bristol on October 21.
It brings together some of the UK's most influential female entrepreneurs, business leaders and brightest start-ups to provide detailed insight for delegates.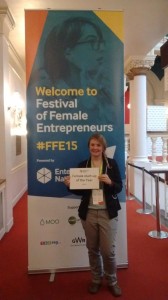 A high point of the event will be the crowning of its Facebook-powered Female Start-Up of the Year winner. The award shines a spotlight on early-stage entrepreneurs that are excelling in their industry.
Last year Bristol-based Chloe Tingle, 25, pictured, won the title after a live pitch on stage for her pioneering social enterprise No More Taboo.
The 100% not-for-profit business is aimed at raising awareness – and money – for women in countries where menstruation is still a huge stigma that interferes with their access to education, affects body confidence and impacts on their freedom.
The prize gave her a free new website, designed and built by 123-reg, and access to mentor and Webstart Bristol founder Mike Jackson, who was one of the judges.
Over the past year No More Taboo has reached its £7,000 crowd-funding target, recruited 10 new volunteers and rolled out an in-school project aimed at encouraging girls to take up science, funded by the University of Bristol.
Chloe said: "Having access to mentors was so important. Having a great idea is one thing, making it into a business that works is quite another, so speaking to Mike was so helpful. And my website looks brilliant. I dread to think how much it would have cost me if I hadn't had any help."
The FFE is aimed at helping women to build and grow businesses. It has already carved a reputation over five years for delivering inspiration for British female self-starters via incisive key-note speakers including the stories of high-functioning corporate leaders – and those who have escaped the rat race and started their own successful venture.
The criteria for entering the awards are:
· Female-founded business
· Less than three years old
· Maximum of 10 employees
· A clear vision for the direction of the business
· Ambitious plans for growth
This year's judges are:
• Catherine Flynn of Facebook
• Mike Jackson of Webstart Bristol
• Alison Edgar, founder of Sales Coaching Solutions and the Entrepreneur's Godmother
• Chloe Tingle, founder, No More Taboo and 2015 Female Start-up of the Year
• Richard Dennys, founder, GenerateLearning
For more information about the criteria and prizes, or to enter the awards, click here.
For more information on No More Taboo, click here
For tickets, visit www.enterprisenation.com/festival
Swindon Business News' sister website Bristol Business News is delighted to be media partner for the Festival of Female Entrepreneurs for the second year running.