Business Showcase South West – the region's largest event of its kind – is taking place today at Bristol's Ashton Gate Stadium with the city's Bloodhound Supersonic Car one of the star attractions.
The free-to-visit event will also hear from the Bloodhound's driver Wing Commander Andy Green OBE as one of the keynote speakers alongside expert-led workshops, seminars and speed networking.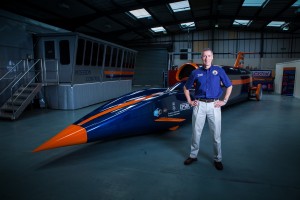 Wing Commander Green, pictured, will speak about leadership, the mindset of success, facing the challenge of breaking the near impossible sound barrier and what businesses can learn from his experiences. A full-sized model of his 1,000mph jet and rocket powered car will be on display at the event.
He will be joined by Professor Dimo Dimov with a keynote entitled Letting Go of Judgment – an insight into the power of judgment in business and how it can enable entrepreneurship to flourish – alongside Judith Levy, former CEO of High and Mighty, talking about her 30 years of leadership.
Judith is managing director at Business Elementals and Vistage chair for Bristol and South West. Having worked at the highest level, she will inspire delegates aspiring to be a better leader or team member and will impart seven tips for delegates to take away and implement for greater success.
Now the largest free business event for the South West, Business Showcase kicked off with a breakfast networking event this morning in the stadium's new cafe/bar.
Throughout today there will be a full programme of events and 150 stands celebrating commerce, innovation and creativity in the region.
The event is sponsored by NatWest & Worldpay, Enterprise Car Club, University of Bath School of Management: Executive Development, Corporate Traveller and Bath & Bristol Audi.
Martin Griffiths, chairman of Bristol Sport – which owns Ashton Gate – said: "We are delighted to welcome the Business Showcase South West to Ashton Gate this year. The £45m rebuild will be completed in the summer and once finished it will be the largest conference and events venue in the South West. I'm pleased that BSSW has chosen to host its showcase event here at the stadium and we look forward to welcoming Bristol's businesses through the doors."
Business Showcase founder and Bristol-based entrepreneur Jamie Breese added: "We are all set for a huge year with two planned Showcases at Ashton Gate. I want the Showcase to be a business-packed experience that delegates feel has helped them solve the problems and challenges in today's business world. I expect delegates from across the region to both the exhibition and the networking events running alongside."
The event takes place from 10.30am to 4.30pm. To book a free ticket visit www.showcase2016.com. Twitter @BSSW2016